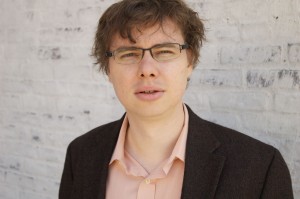 MAC ROGERS is an award-winning playwright based in New York City. His plays include SOVEREIGN (New York Times and Backstage Critic's Pick), BLAST RADIUS (New York Times Critic's Pick), ADVANCE MAN (Backstage Critic's Pick and winner of the New York Innovative Theatre Award for Outstanding Premiere Production), FRANKENSTEIN UPSTAIRS (featured in the New York Magazine Approval Matrix and nominated for the NYIT Award for Best Premier Production), LIGATURE MARKS (CityBeat Critic's Pick), ASYMMETRIC (produced by Philadelphia's acclaimed New City Stage Company), VIRAL (winner of Outstanding Play at FringeNYC 2009 and Best Off-Off Broadway Play from the New York Independent Theater Bloggers), UNIVERSAL ROBOTS (nominated for four New York Innovative Theatre awards and winner of Best Off-Off Broadway Play from the New York Independent Theater Bloggers), HAIL SATAN (Outstanding Playwriting Winner at FringeNYC 2007), and FLEET WEEK: THE MUSICAL (co-written with Sean and Jordana Williams; winner of Outstanding Musical at FringeNYC 2005).
Mac's plays have earned acclaim from The New York Times, Backstage, The Wall Street Journal, Time Out New York, New York Post, Flavorpill, io9.com (Gawker Media's science fiction site), Tor.com, Show Business Weekly, New York Press, BroadwayWorld.com, nytheatre.com, ShowShowdown, and many others. Of SOVEREIGN, the concluding installment of Mac's ambitious HONEYCOMB TRILOGY, Flavorpill writes, "Mac Rogers' Sovereign is a gripping and satisfying ending to his epic alien invasion tale, The Honeycomb Trilogy, proving that the work as a whole is one of the most intelligent and complex theatrical events of the year."
As a professional writer, Mac has contributed columns to Slate.com and New York Magazine's Vulture site. His science fiction short story "Miss Emily's Voyage" appears on At Length. Mac currently writes online content for a number of global brands in his role as a Copywriter/Producer with the Brooklyn-based community-building and management firm StellarEngine.