HAVE MERCY was given a workshop production, December of 2011, as the very last show to be held in the space formerly known as Manhattan Theatre Source in the West Village of New York City.
The workshop was not reviewed, as a full production is expected to be mounted in the near future.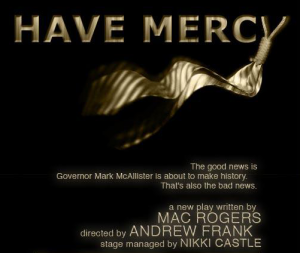 SYNOPSIS:
Mark McAllister, the Governor of Illinois, is just about to lose everything in a ruinous scandal when an unprecedented crisis of conscience leads him to take on one of the most contentious political issues of our time. Suspenseful, funny, and emotionally wrenching, HAVE MERCY, is an unforgettable political thriller.
CAST BREAKDOWN:
RUNNING TIME:
The good news is that Governor Mark McAllister is about to make history. That is also the bad news.
(For all inquiries about Have Mercy, please use the Contact tab)